RICK'S TRAVELS - by Rick Cowlishaw
RickCowlishaw@harmonyvillage.org
303 216-9665
Rick Cowlishaw is a semi-retired architect who lives in Colorado, enjoys traveling and sharing his experiences with friends. I hope you enjoy reading this newsletter and find it as much fun as I had in living it. The opinions herein are those of the author.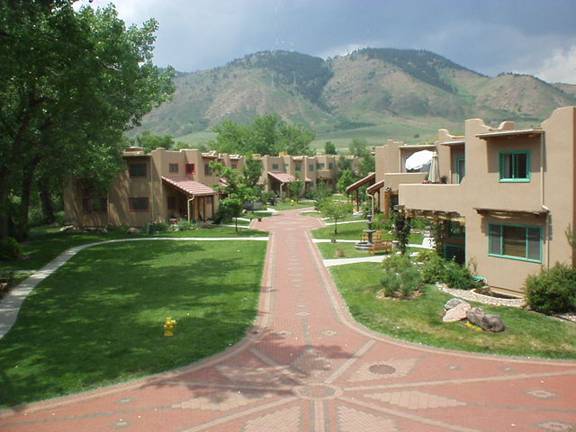 View of Harmony Village from Common House Roof
Introduction
I am often asked where I live. I respond, "I live in Harmony Village, a Cohousing community located in Golden, Colorado." Most folks then ask, "What is Cohousing?"
"Cohousing is a European inspired, resident planned, sustainable community, featuring shared common facilities which foster a more practical and social neighborhood environment."
Why Cohousing?
Today in our subdivisions many of us feel disconnected from our neighbors.
We feel more isolated than ever with our ability to drive up to our subdivision home, drive into our garages and close the door. We leave the world and neighbors behind us. Some new subdivisions are eliminating outside walks, since they are not used. Fences surround our back yards, fencing us in and our neighbors out. We loose the sense of neighborhood and reduce interaction. Cohousing is in part an alternative to the typical U.S. subdivision. We in harmony Village wanted more interaction not less.
Similar to Conventional Townhomes
Harmony Village is similar to a townhome project with a common use building. We individually own our townhomes, the property on which the townhomes sit, and own together the connecting property and the common house. The community governs itself through a homeowners association.


Harmony Village
Harmony Village is an intentional community planned to foster interaction and built by the people who live there. We decided the kind of community we wanted. We met for years and planned this village. We bought the land, we hired the developer/builder, and we constructed our neighborhood.
Harmony Village is in the south part of the town of Golden against the foothills of the Rocky Mountains. We are surrounded by mountains and tabletop mesas, and have within walking distance the School of Mines College, downtown Golden, Golden Recreation Center, Golf Club, Outdoor swimming, Parks, bike trails, and Safeway Grocery store.
Harmony Village has 27 townhome units, a common house and parking, carports, and garages around the north and west side. It sits on 5 acres at the end of a street with large cottonwood trees. Welch irrigation canal and Kinney Run, a mountain stream, run through the property. The buildings sit on 2.5 acres with 2.5 acres used as open space area to the east and south. This open area contains a large garden, an orchard, a rock labyrinth, and a winding stream. Some of the area has been left natural for wildlife such as birds, rabbits, squirrels and deer passing through.
"Harmony Village Shared Mission: To create a cooperative neighborhood of diverse individuals sharing human resources within an ecologically responsible community setting."
There are elements in Cohousing similar to the small towns in the 1910's when people sat out on their porches, strolled down the sidewalks and visited with their neighbors. We have meals together about once a week much like the extended farm family.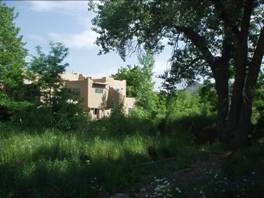 Living unit next to open space
GOALS
Our goals are different than in a traditional townhouse project. We wanted to know our neighbors, to have a safe place for our children, to respect our environment, to have diversity in age, income, education, and backgrounds, and to share our resources. We wanted to do this cooperatively, in a way that it considers everyone's needs, not just the majority. 
Intentional community
We want to know our neighbors more as an extended family as in a small village. We wanted the true feeling of community, of belonging, a place where everyone knows each other as individuals, and a place where each are accepted. It is like the TV show "Cheers" where everyone knows your name.
Raising Children
Our desire was to build a very fun, safe and friendly place for our children. We wanted the village to be a place our children can play and enjoy being children. We wanted a place where we all would have some role and connection with the children, reflected by the saying "lt takes a village to raise a child."
Sustainable
Another goal was to make Harmony Village to be as sustainable as possible, to conserve natural resources, to rest lightly on the land and to respect the environment.
Diversity
We wanted to be diverse in age, income, education and background among our residents. Diversity adds interest and requires understanding across a wide range of viewpoints and ideas.
Sharing
One more goal is to share resources, thus reducing duplication of physical items and reducing costs. This would allow for having some things we couldn't otherwise afford. We could reduce costs by not having 27 households buying the same thing then one or two of these could be shared.
Governing Ourselves
Every adult community member is a member of the board of directors. We use the model of consensus, where everyone must agree on the decisions we make. Each member of the community may voice concerns on any proposal and may block consensus if the they believe it is not in the best interests of the community.
COMMUNITY DESIGN
Intentional Interaction
These Goals led to some physical differences you don't usually see in a standard townhome project. Since we wanted more contact with each other, we placed the buildings around a central pedestrian walkway.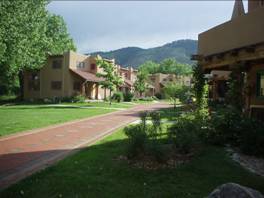 Pedestrian walkway
We designed all the living units with kitchens and front porches to face onto this walkway. All walkways lead to the centrally located common house with sheltered mail pick-up and bulletin boards. All parking, carports and garages are around the perimeter, and residents walk from their cars down the walkways to their homes. These design elements lead to more social interaction.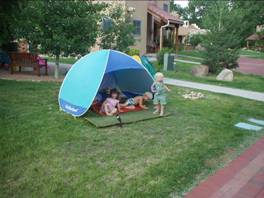 Children camping along walkway
Children
The children find the pedestrian walkway a great place to ride their bikes. They delight in playing in the toddler playground and an older children playground.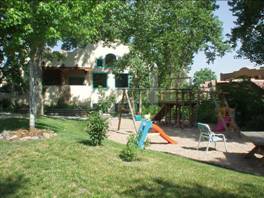 Older children Playground
Often the children play on the grassy green in front of the common house. They can be easily supervised from the homes and the common house. The same intentional interaction that works for the adults works for the children. The children are very connected to each other and to the adults. This makes it a fun place to play while still being under supervision and safe.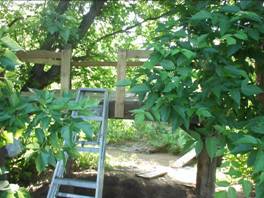 New tree house for children
Sustainability
We incorporated into the buildings sun tempering, natural ventilation, low e windows, R30 walls, R50 roofs, below .4 air changes, and controlled ventilation. This greatly reduces heating and cooling needs.
We conserve water use with water restrictors, and low water use toilets. Outside we use natural landscaping, low water use fescue grass and drip systems.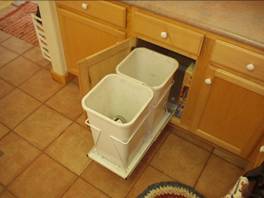 Recycling bins in home
Community members have a massive recycling program for plastics, tin cans, glass, cardboard, newspapers, aluminum cans, paperboard, soy containers and magazines. We have six large composting bins in the garden where we are rebuilding the garden soil. I estimate that up to 70 percent of our waste is recycled.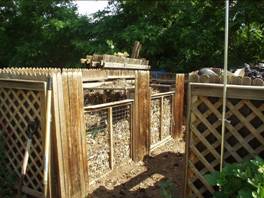 Composting bins
The community has an ever expanding garden including a fruit orchard. We have just added bees for pollination and honey.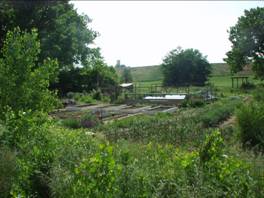 Garden
Diversity
We have a wide range in income and age. The income range is reflected in the size of the townhouse units, the smallest about 1000 S.F. to the largest of about 3500 S.F. Community members range in age range from under thirty to over eighty years old.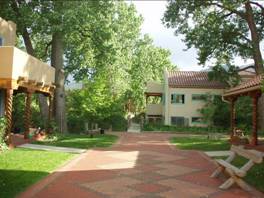 Walkway to Common House
Shared Resources
A major shared resource is the Common House where we have community meals, community meetings, and a community living room. Additional shared spaces are two guest bedrooms; children play rooms, common laundry, common exercise equipment area, common games area, and common big-screen TV area.   We have a Jacuzzi and bricked table are on the roof of the common house. We built a common workshop and a have a community garden. These shared resources reduce the need for similar spaces in the townhouse units.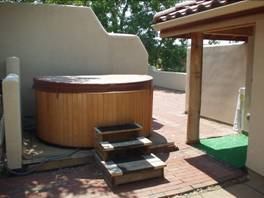 Jacuzzi on the Common House Roof
Social Glue
There is a "social glue" that binds our community together. We govern ourselves, we work on community projects together, we play together, and we dine together. All this brings us closer together as a community.

Common House Dining
I am asked "What is it really like living there?" Harmony Village has about 42 adult members, 12 children, 1 teenager and 8 renters. If asked, you would get 63 different answers. For me, it is a wonderful and unique place to live. I have been retired for 3 years, and I have a true sense of belonging. I know the adults by name and I know them by their personalities, and by their likes and dislikes. I know the children by name and their personalities. I even know the dogs and cats by their names and personalities!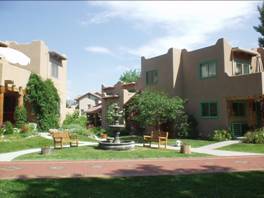 Fountain sitting area
Each Cohousing development has its own group personality. Our group personality includes a willingness to do projects around the community.
Physical Projects
We are blessed with a large number of "can do" community members. In the last 6 years we cut the logs used in our porches, we placed tile in the common house and our own homes, finished our workshop, built finishing details for additional garages and carports, built a recycling center, constructed a bridge across a irrigation canal, built a small bridge across the Kenny Run stream to the garden, worked on the garden, planted the orchard, built composting bins and laid 70,000 brick pavers on our pedestrian walkway. We currently have under construction a photovoltaic array and pumping station for the water supply to our garden and built-in benches in the common house living room. We continue to landscape around our homes and to maintain them.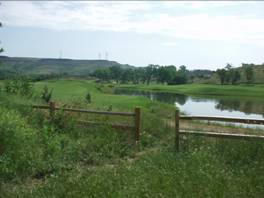 Golden Golf Course and Pond
Golden Golf Course
The City of Golden in the last year has enhanced Harmony Village by surrounding our community on three sides with a public golf course, and a soon-to-be-constructed small pocket park and bicycle trail. We have two large ponds directly south of the village which have attracted ducks, geese and a blue heron.
Future Projects
We have plans for developing more of the garden area, adding a trellised area, a grape arbor, a picnic area and a greenhouse. We want to finish the basement of the common house by adding a bathroom and crafts room. We may want to add evaporative cooling.  As the garden continues to improve, we may need a canning area and food storage area in the common house. We would like to finish the interior of the workshop.
Something for Most
Many people find Cohousing a great way to live with their neighbors. For young couples without children, it is a solid connection with their neighbors and a place to build their future. Cohousing provides a way to stretch their abilities and learn from others. For single mom's, it is place for raising their children, a place for companionship, and a place for mutual help.   For seniors, they are connected to the children and adults of all ages are respected for their knowledge and wisdom. For couples with children it is a place to share with other couples, a place where there their children can develop a wide range of social skills with children and adults, and a place where they can be safe.   For singles, it is a place they may have an extended family and a sense of belonging.
Not for Everyone
Cohousing is not for everyone. For people who participate often in their own extended family, there is less need of the extended family of Cohousing. For those who are incredible busy and do not want to commit time and energy to Cohousing, they would get less benefit in return. For those who would be quite happy living in the middle of 20 acres and ever be bothered by neighbors, they would find Cohousing stressful.
My Feelings
I feel very comfortable and at home living here in Harmony Village. I belong.  I know I could leave for 6 months or longer and still be very welcome in the community. I would not like living in a regular subdivision again. I really would not like to live anywhere else.
---